Hello!
The Governor's budget proposes a 3% increase in education funding, but cuts library aid by 4%. These cuts would leave library funding at year-2000 levels, and for the eleventh consecutive year, would leave library funding far short of what Education Law mandates.
In order to facilitate library advocacy, the New York Library Association provides a quick and easy means of showing your support. NYLA's Online Advocacy Center allows you to edit pre-drafted advocacy messages as you like, enter your name and address, and hit 'Submit'.  The messages will be automatically delivered to your NYS Senator and Assemblymember. Get started now, click HERE to access the appropriate webpage, then click on "Take Action Now!".
---
February 9th, 16th and 23rd
Line Dancing is back, with more opportunities to get on the dance floor and have fun!  You don't need a partner, cowboy boots or experience, but you are welcome to bring any or all of the above.  Join Deborah Silvestro as she teaches the steps that will let you dance to popular Country, Rock-n-Roll, Zydeco, Waltz, Cha Cha tunes, and more!  We'll start with the basics and aim to have fun with a dash of aerobic exercise to boot!!!!!!!!!!!
  Come learn to make easy chicken noodle soup.  We'll read
Chicken Soup with Rice
, sing some songs, then make our own easy chicken soup from bullion, noodles, and frozen vegetables.  Easy enough for 5 yr old kids to make!  All ages are welcome.
---
Craftworking to Reduce Stress
Wednesday, February 28th at 7:00 pm
Kara Snyder will lead attendees in a night of conversation and craftworking.  Craftworking is about helping women experience the mind-body benefits of flow and relaxation achieved by doing a simple, repetitive paper craft activity.  
Learn to relax through simple crafts and join in to a night of conversation!
---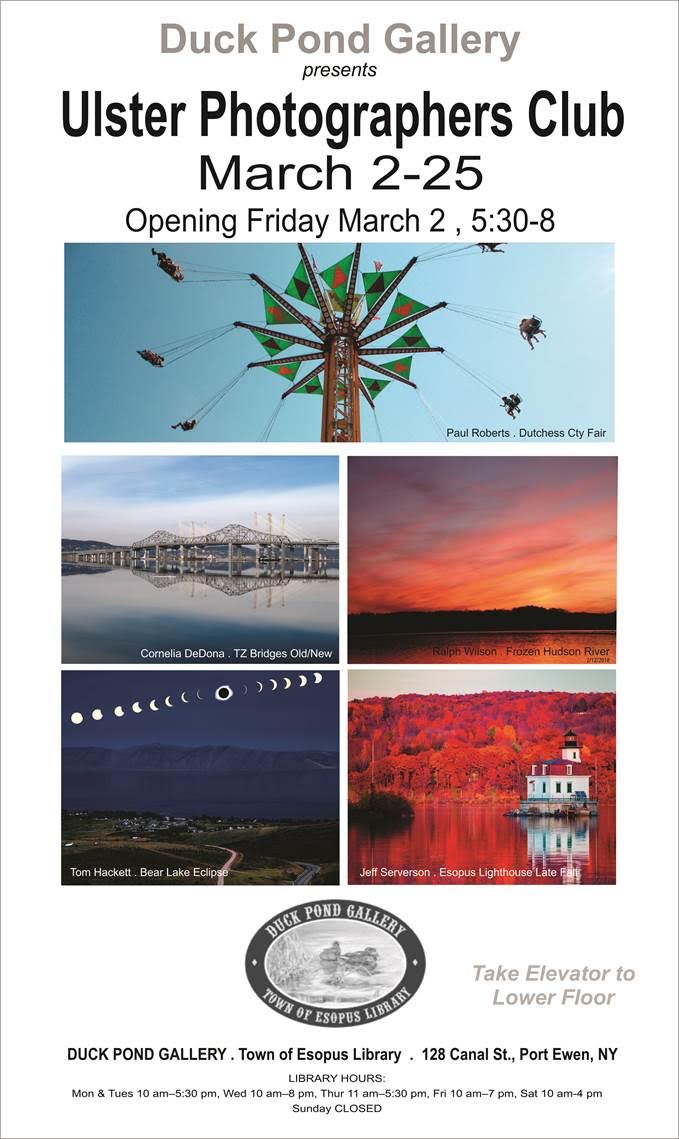 Opening Reception on 
Friday, March 2nd
5:30 -8:00 pm
---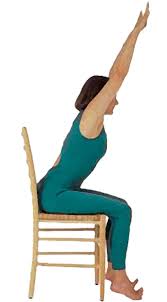 Chair Yoga is a very helpful way for those who need extra support to enjoy the benefits of yoga. Using sturdy chairs, Kathy Foley, a 200 hour registered yoga teacher, will instruct you on how to stretch your body to keep limber, strong and healthy. 
Wear comfy, loose clothing and non-skid shoes.
---
Tuesdays, March 6th, 13th, 20th and 27th 
This series of classes is for the absolute beginner. We will be learning and experimenting with the qualities of chalk pastel, color and basic drawing. 
Supplies will be provided for all those who register for the class.
 Bring your curiosity and playfulness!
Max class size 10 people. 
You MUST register for this series.
---
Irish Brigade of the Civil War:
Wednesday, March 7th at 7:00 pm
Neil Murray will discuss the material culture of the common soldier of General Meagher's Irish Brigade of the American Civil War.  His presentation will focus on uniforms, weapons, and gear in a living history format.  A soldier of the Irish Brigade will "come to life" as Mr. Murray will be wearing and demonstrating how to wear various uniforms. 
---
Irish Music & Dance Celebration
Friday, March 16th at 7:00 pm
Join us for a night of bagpipes and Irish dancing! Audiences will be delighted as the Catskill Mountain Pipes and Drums will be demonstrating and playing bagpipes followed by the D'amby Project whose members will be showcasing Irish dancing.
---
Wednesday, March 21st at 7:00 pm
The Call is a fictional story about Margie, one of the first female umpires in the minors.  Author Laurie Boris will be talking about the inspiration for the book, about women in baseball (especially umpires), and will be reading segments aloud. She will then do a Question and Answer session, followed by a book signing.
---
Wednesday, March 28th at 7:00 pm
Sleep is an important part of health maintenance. 
Sydney Leone, of MVP Health and Wellness programs, will guide participants in increasing their understanding of the benefits of sleep to maintain overall health and learning strategies to improve sleep habits.  The benefits of sleep, how much is enough, stages of sleep, types of sleep difficulties, and sleep strategies will be covered.
---
 New Park Pass!
The Esopus Library is happy to announce that we are collaborating with the Mohonk Preserve in offering free passes to the preserve.
Mohonk Preserve 
New Paltz, NY
The Mohonk Preserve is New York State's largest visitor- and member-supported nature preserve, with 8,000 acres (32 km2) of cliffs, forests, fields, ponds and streams. It is located on the Shawangunk Ridge. The Preserve maintains over 70 miles (110 km) of carriage roads and 40 miles (60 km) of trails for hiking, cycling, trail running, cross-country skiing, snowshoeing, and horseback riding. It is also a major destination for rock climbers, hosting 50,000 climbers each year who enjoy more than 1,000 climbing routes.  (Normal day fee: $15 for hikers and $20 for bikers, climbers, and horseback riders.)
One pass can be checked out per person, and we have four passes in total.  Patrons may check out the pass for four days.  
---
The Friends of the Library 
Book Cellar Gift Certificates!
Would you like to give the gift of a book, DVD, CD or Audiobook, but aren't sure what title to get? What about a gift certificate for the Book Cellar here at the library? 
Certificates are available for purchase at the circulation desk for any amount.
---
Also… 
To show our deep appreciation for service to NY State and this country,
the Friends are proud to join the Ulster County F.A.V.O.R program.
We offer all active, veteran, retired and reservist military personnel
the same eligibility with a valid service ID at check out: 
BUY ONE, GET ONE FREE at the Book Cellar!
Books, CD's, DVD's and Audiobooks.
---
Please consider the Town of Esopus Library as a part of your charitable giving strategies.
---
 Scheduled Board and Committee Meetings*
Board of Trustees Meeting: 4th Wednesday of the month at 6:00 pm. Rhea Paniesin, President; Research and Development Committee: 2nd Wednesday of the month at 4:00, Marcia McManigal, Chair; Buildings and Grounds Committee, 2nd Monday of the month at 4:00, Anne O'Neill, Chair; Finance Committee:  2nd Thursday of the month at 3:30, Marcia McManigal, Chair; Governance & Personnel Committee: 2nd Tuesday of the month at 4:00, Susan Leiching, Chair.  Trustee Training Committee: 2nd Friday of the month, 3:00, Susan Leiching, Chair. *All meetings are at the Library, unless otherwise noted.
---

Search the catalog for books, movies, research articles and more!
See what's happening at the Library
Come Grow With Us!
The Library offers free passes to 4 locations. 
Download free audio and ebooks
NEW! You may choose a 7, 14 or 21 day loan period for e-books.
Tumblebooks will read your book to you or you can read it on your own! Stories are followed by games or puzzles! Click HERE to read online children's books.
You will need to create an account to view a wide variety of magazines!
 You will need to create an account to read online comics, if you don't already have an account to read online magazines. 
Click on the button above, then click on ConsumerReports.org which will direct you to the website.
You will need to create an account to view recorded concerts, if you don't already have an account to read online magazines. 
If you need to create a simple, legal document, click on the link above to access the Ulster County Library portal which is offering access to this FREE online service.
Learn how to renew your items yourself by clicking the link above…
or join LIBRARY ELF:
Do you have difficulty remembering when your library materials are due? This program will send you email notices before you have items due and remind you of overdue fines. You will have access to the Premium Subscription for a limited amount of time, then it will revert to the Basic Subscription.  Click HERE or click on the logo above. 
The Town of Esopus Library now offers patron access to the genealogy website, Ancestry.com. To access the site, you MUST be in the library. If you have your own laptop or device, you may use the library's WiFi to access the site, or you may use one of the library's public computers.  Once you are in the library, please click HERE to get started. 
What is the temperature at the library? We have installed a weather station on the library property. Click on the link above for the most recent information!
Our next meeting will be on March 1st at 7:00 pm.

Currently reading:
Trains and Lovers  by
Alexander McCall Smith


"As they journey by rail from Edinburgh to London, four strangers pass the time by sharing tales of trains that have changed their lives. A keen-eyed Scotsman recounts how he turned a friendship with a coworker into a romance by spotting an anachronistic train in an eighteenth-century painting. An Australian woman shares how her parents fell in love and spent their life together running a railroad siding in the remote Outback. A middle-aged American patron of the arts sees two young men saying goodbye in a train station and recalls his own youthful crush on another man. And a young Englishman describes how exiting his train at the wrong station allowed him to meet an intriguing woman whom he impulsively invited to dinner-and into his life.
 
Here is Alexander McCall Smith at his most subtle and enchanting, exploring the nature of love—and trains—in this utterly captivating story." -Amazon

Weekly Local Produce Delivery: 
Library Fundraiser
Field Goods is a year-round local produce delivery service and fundraiser for the library.  A $1.00 donation is added to every order, and you pick up your produce at the Town of Esopus Library. Bags can be put on hold at any time (for example, if you plan to be out of town that week).  TO SIGN UP:  Click this link: Field-Goods.com,  
Ongoing Programs
Amateur Guitar Group: Mondays at 3:30 pm
This group plays well known, popular songs. Bring your own guitar and join in the fun.
Esopus Artist Group – Tuesdays from 1 –3:30pm                                   Everyone is welcome to join this ongoing session of art making. Whether you would like to use charcoal, watercolors, oil paint, acrylics, fingerpaint or pastels…whatever medium you prefer is what the artist group is about. We meet year round in comfortable and friendly surroundings. Please bring your own supplies.
Esopus Stitchers–Wednesdays at 12:30 pm – except for the first Wednesday of the month.
Cross-stitch, needlepoint, surface embroidery, crewel… whatever! Always wanted to try embroidery? We'll help you get started with fabric, floss, needles, patterns, etc. Or, bring your current project and come stitch with us!
Mah Jongg: Wednesdays at 1:30 pm 
Mah Jongg is a game that is played 4 to a group.  It is similar to the card game "Rummy", except used small ceramic tiles, instead of cards. This group is for the beginner or advanced player.
Needlework Group–Mondays at 1:00 pm
The Needlework Group is comprised of knitters, crocheters, rug hookers, stitchers of all types. Membership is free, and anyone can casually drop in whenever they like. All skill levels are represented, and if a beginner needs help, we will try our best to help them. We also have a nice supply of yarn and needles for those who don't yet have supplies but would like to give knitting or crocheting a try!
Scrabble Club – Fridays from 1:00-3:00 pm  Join us for our Scrabble Club!  Bring your extensive vocabulary and your enjoyment for games to our Scrabble events.  Scrabble boards will be provided for players, though anyone is welcome to bring their preferred Scrabble board as well.  
Ulster County Photography Club–Second Wednesday of the month at 6:30pm
Photographers of all ages and skill levels are welcome to join this group. Monthly meetings include presentations, member competitions, and the sharing of information. Please check out our page for more details.
Writing Group / Writer's Write! – 1st & 3rd Saturdays – please check here for dates. This writing group will offer practice exercises to improve writing technique, and the opportunity to share work-in-progress for feedback. It is a supportive environment, in which listeners respond positively and affirmatively to one another. By doing so, participants will develop a deep understanding of those elements of their work that are effective and powerful, becoming better writers in the process.
Find out just how much your free library card can save you!
Contact the Library
Questions, comments, suggestions…please email at:
esopuslibrary.mail@gmail.com