Hello!
To see the library calendar of events, CLICK HERE! 
---
Duck Pond Gallery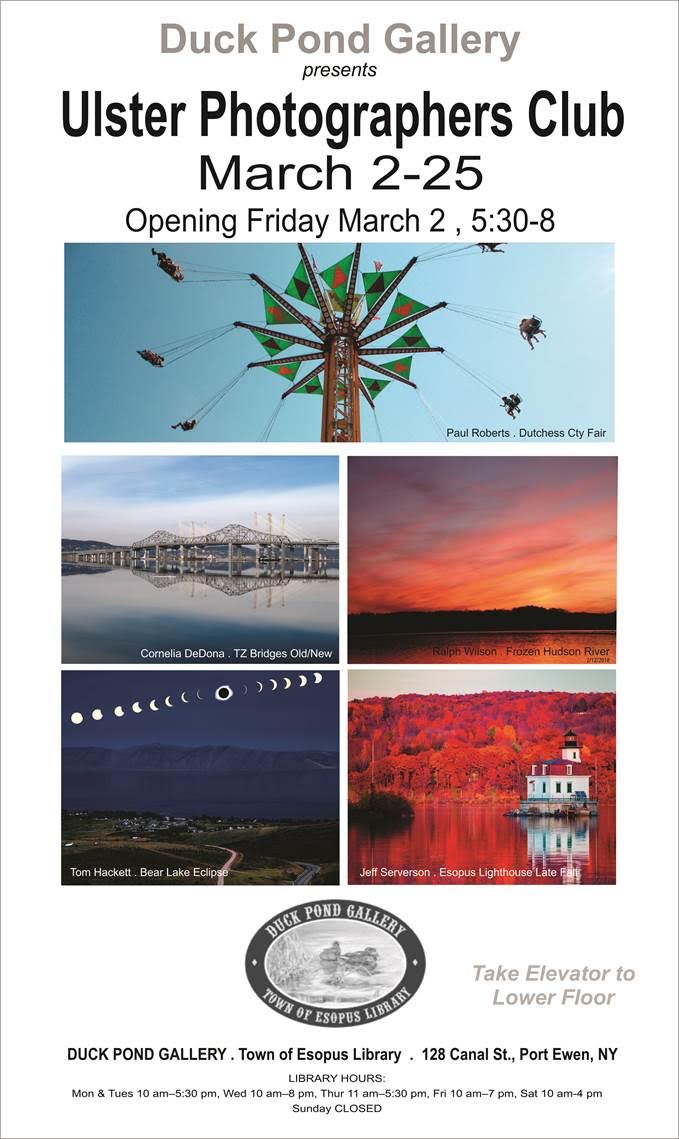 March 2nd – 25th
March 26th, April 2nd & 9th!
Chair yoga is a very helpful way for those who need extra support to enjoy the benefits of yoga. Using sturdy chairs, Kathy Foley will instruct you on how to stretch your body to keep limber, strong and healthy. Wear comfy, loose clothing an non-skid shoes. 
---
Wednesday, March 28th at 7:00 pm
Sleep is an important part of health maintenance. 
Sydney Leone, of MVP Health and Wellness programs, will guide participants in increasing their understanding of the benefits of sleep to maintain overall health and learning strategies to improve sleep habits.  The benefits of sleep, how much is enough, stages of sleep, types of sleep difficulties, and sleep strategies will be covered.
---
 New Museum Pass!
The Hudson River Maritime Museum
50 Rondout Landing, Kingston, NY
Located on the historic Rondout waterfront, the Hudson River Maritime Museum was established in 1980 to collect, preserve, research, exhibit, and interpret a collection of historical artifacts related to the maritime heritage of the Hudson River and its tributaries. This is the only museum in New York State exclusively dedicated to this mission.
The collected artifacts include historic vessels, objects, archival material and art related to Hudson River transportation, industries and recreation such as paintings, prints, photographs, ephemera, blueprints, artifacts, ship models, a 100-year old shad boat, life boats, lighthouse tender and ice yachts.
A pass offers free admission to the museum for 4 people and kayak / canoe launching privileges as well as docking permission.
 
---
The Friends of the Library 
Book Cellar Gift Certificates!
Would you like to give the gift of a book, DVD, CD or Audiobook, but aren't sure what title to get? What about a gift certificate for the Book Cellar here at the library? 
Certificates are available for purchase at the circulation desk for any amount.
---
Also… 
To show our deep appreciation for service to NY State and this country,
the Friends are proud to join the Ulster County F.A.V.O.R program.
We offer all active, veteran, retired and reservist military personnel
the same eligibility with a valid service ID at check out: 
BUY ONE, GET ONE FREE at the Book Cellar!
Books, CD's, DVD's and Audiobooks.
---
Please consider the Town of Esopus Library as a part of your charitable giving strategies.
---
 Scheduled Board and Committee Meetings*
Board of Trustees Meeting: 4th Wednesday of the month at 6:00 pm. Rhea Paniesin, President; Research and Development Committee: 2nd Wednesday of the month at 4:00, Marcia McManigal, Chair; Buildings and Grounds Committee, 2nd Monday of the month at 4:00, Anne O'Neill, Chair; Finance Committee:  2nd Thursday of the month at 3:30, Marcia McManigal, Chair; Governance & Personnel Committee: 2nd Tuesday of the month at 4:00, Susan Leiching, Chair.  Trustee Training Committee: 2nd Friday of the month, 3:00, Susan Leiching, Chair. *All meetings are at the Library, unless otherwise noted.
---